Carriers would all agree that when the wheels are not turning, revenue is not being generated. The biggest problems facing carriers are distressed loads. Distressed loads can be as small as the driver missed their appointment to as big as the load shifted in transit and the consignee has refused to unload the load. All of these delays create heart ache for dispatchers and drivers. In this tough economy delays add up to costly expenses and loss in revenue.
*Refused by consignee **Ready for delivery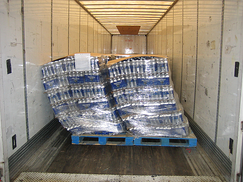 The best solution for the dispatcher is that they have a reliable warehouse in the area that can correct the problem. The warehouse has to be flexible and reliable offering a variety of labor and equipment to complete the work and keep the costs as low as possible. A great warehouse will ask questions over the phone to determine what the problem is with the load. If the problem is simply a missed appointment, a great warehouse will charge a fee to handle the product into their warehouse and offer transportation to redeliver the load at the newly scheduled time. This is usually done as a cross dock service, which elimates the need to charge a storage fee. This service allows the company driver to be on their way to get the next load that is waiting on them. If the problem is the load has shifted the great warehouse will ask questions over the phone to determine what will be involved. Once the driver arrives, the warehouse will take pictures and email them to the dispatcher. The warehouse will then estimate the charges to rework the shifted load and the time to complete so that the dispatcher can make a determination whether to keep the driver on the load or allow the local warehouse to deliver the load. At the end of the day the warehouse partner you choose should provide a flexible, reliable solution.